Fork Lift Truck Training
At Trans Plant Mastertrain we have been providing the highest level of fork lift truck training for over 25 years offering training at our purpose built training facility in Exeter or at customer premises.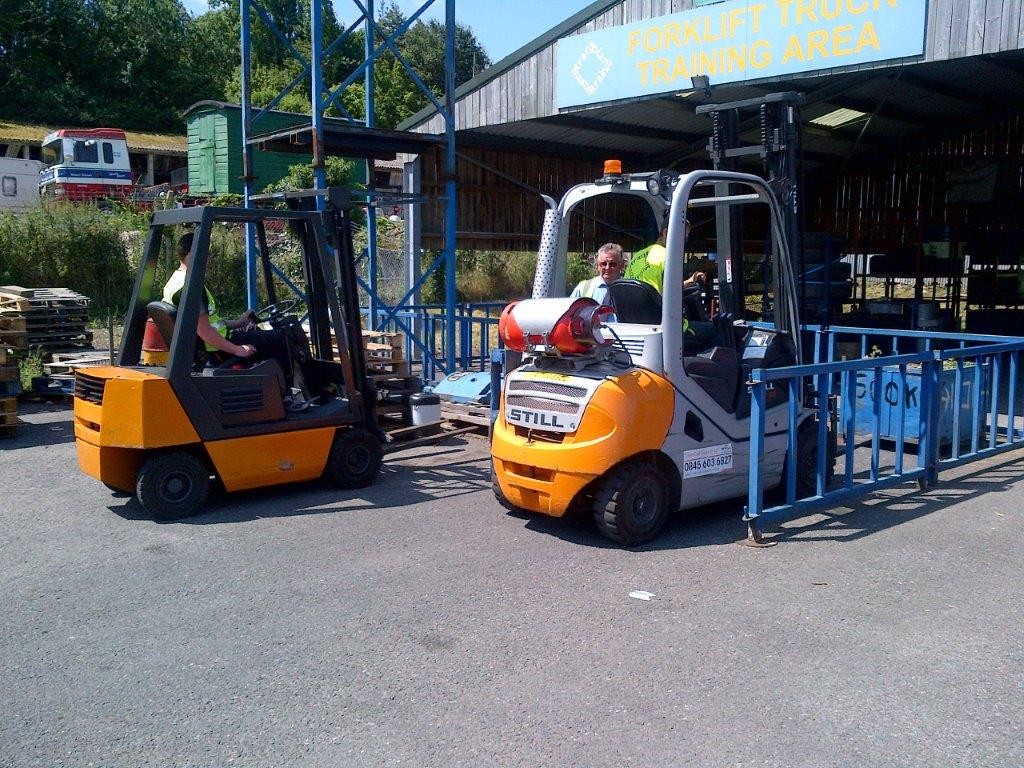 Our experienced and qualified instructors are able to offer training on a wide range of forklift trucks including:
Counter Balance
Reach
Sideloaders
Telescopic Handlers
Very Narrow Aisle Trucks
Pivot Steer Trucks
Pallet Stackers
Pallet Trucks
Order Pickers
Rough Terrain Trucks
Who requires fork lift training
The Provision and Use of Work Equipment Regulations 1998 and the Lifting Operations and Lifting Equipment Regulations 1998 and the Health and Safety at Work Act 1974 require fork lift truck operators to be trained in the use of their equipment.
Awarding Body
The Independent Training Standards Scheme and Register (ITSSAR) is recognised by the Health and Safety Executive (HSE) and is a founding member of the 'Accrediting Bodies Association (ABA) 2012 workplace transport' their certification is nationally recognised by both employers and insurance companies.
Booking and Information
To book your training or for more information please get in touch using the details below.
Fork Lift Training Course Content
Fork lift truck training introduction;
Relevant regulations;
Approved Code of Practice;
Duties of employer / employee;
Counterbalance principles;
Pre shift truck inspection;
Introduction to machine and basic fork lift truck manoeuvring;
Introduction and use of fork lift truck hydraulics;
Stacking & de-stacking;
Working on gradients;
Vehicle loading/unloading;
Practical and theory test;
Costs and course duration vary according to your experience so please call us for a free quotation.
Forklift truck training at customer's premises
This is priced on a daily rate plus travel. We do need somewhere suitable for the theoretical part and an area allocated for the practical element together with an assortment of loads. We strive to adapt our courses to be as non intrusive as possible on your business activities by adapting our training programmes to suit you.
Forklift truck training at our centre
We offer excellent fork lift truck training facilities at our centre, which is situated on the Marsh Barton Trading Estate, Exeter, Devon. We have a purpose built sheltered training area for practical training and a training room specifically used for the theoretical element of the course. Refreshments are provided during the day to all our customers. Our rest room can be used for lunch or customers are welcome to use the restaurant at our centre or other numerous facilities on the estate. There is ample free parking at the centre and public transport available.
The duration and price of the course is dependant on your experience generally ranging between one and three days. We offer a free assessment if you are unsure.
On successful completion every individual will receive the following:
Nationally recognised certificate;
Individual training report;
Plastic (wallet size) certificate confirmation card;
Registration on the National ITTSAR database.
Quality assurance
We pride ourselves on making you feel welcome with excellent customer service and quality training.
Costs
Forklift training costs at our centre
| Product | Cost (ex. VAT) | Cost (in. VAT) |
| --- | --- | --- |
| 1-Refresher course | £140.00 | £168.00 |
| 2-Day Semi-Skilled Operator | £270.00 | £324.00 |
| 3-Day Course | £325.00 | £390.00 |
Forklift training costs at customer's premises
| Product | Cost (ex. VAT) | Cost (in. VAT) |
| --- | --- | --- |
| Daily Rate (up to 3 individuals) | £295.00 | £354.00 |
For ITSSAR registration there is a fee of £7 + VAT (£8.40) per person.
Need financial help? Contact us and ask about a repayment plan.
Customer Feedback
"Very enjoyable course, informal and relaxed but lots covered" J.Warren-Puckey – Darthaven-Counter Balance
"I found the training absolutely brilliant. They have great facilities at the centre. The tutor was very friendly and patient. The whole experience was great. A truly professional outfit. Many thanks to all at Trans Plant." Sebastian Lee- Exeter
"The forklift training was fantastic. All staff are so helpful and friendly. I highly recommend them." Kevin Smith- Exmouth
"Simon was very professional, understanding, calm, kind and patient instructor." K. Ingram
"Fully professional form start to finish. The trainer was full of the correct knowledge. Dealt with non English speaking students with respect and patience. I will be using Trans Plant again." Keypak Food Group.
"Geoff was very well liked by all students, he was very flexible with his training to fit around company timetable. His knowledge is incredible. Looking forward to booking further training next year." Michael Wilcock-Salterns Marina- Forklift and other machinery
"The training given was to a very high standard. Our instructor was professional and safe. He also had some very good 'visual' methods of teaching us the theory elements of the course." Nathan – Pirongs Ltd
Forklift Truck Training Booking and Information
To book your training or for more information about Forklift Truck Training please get in touch using the details below or visit our Contact Page.
Contact Form
Please fill out the contact form below and we'll get right back to you.