What is Driver CPC?
The Driver Certificate of Professional Competence (Driver CPC) is a qualification that ALL vocational LGV drivers will need to hold in addition to their driving licence.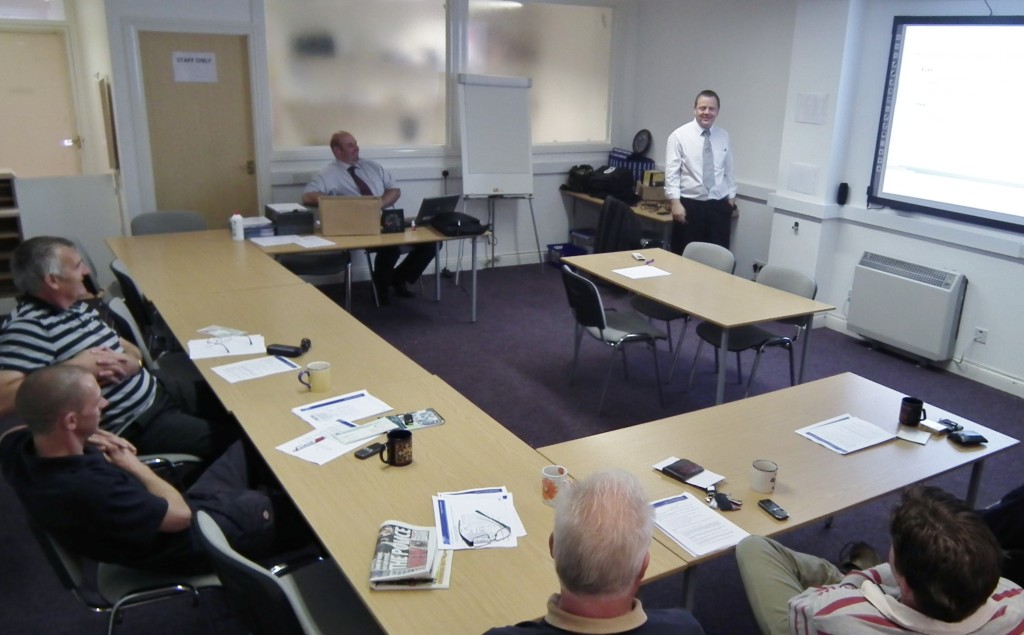 Existing LGV licence holders will be required to undertake 35 hours of Periodic Driver CPC training in every 5 year period.
All new LGV drivers will need to undertake Driver CPC before they can drive vocationally.
Drivers who passed their B licence (car) before January 1997 can choose to undertake Periodic CPC or Initial CPC.
Drivers who passed their B licence (car) after January 1997 do not have the choice, they must undertake Initial Driver CPC.
Booking and Information
To book your training or for more information please get in touch using the details below.
Periodic Driver CPC
Driver CPC is classroom based and is broken down into individual 7 hour modules relating to all aspects of LGV. This is attendance based training ( no test) which we carry out at our training centre or at customers premises. We understand it is a legal compliance to attend and have made sure that the course is comfortable, enjoyable and as interesting as possible. We will also spoil you with a free truckers bacon bap. Courses are run every four weeks at extremely competitive rates.
Our seven hours JAUPT approved courses are:
Drivers Hours and Working Time Directive
Safety in the Transport Workplace
Eco Safe Driving
Safe Loading of Vehicles
Driver Responsibilities
Vehicle Roadworthiness
Transporting Dangerous Goods 1,2 & 3
First Aid
Also you can attend our ADR (Carriage of Dangerous Goods) course which can qualify you for 21hrs of your CPC.
Initial Driver CPC
Initial CPC is made up of 2 elements, a theory test and a practical test (much like the LGV licence).
The Driver CPC Case Study Test (MODULE 2)
This will test your knowledge by presenting a series of practical scenarios that you may meet in your work and then asks questions to test your understanding. The case study testing method is described in section four of the Official DSA Guide to Driver CPC (ISBN 978-0-11-553001-2)
The Driver CPC Practical Demonstration Test (MODULE 4)
This will test your knowledge of your vehicle and how it should be operated safely and efficiently. The test will be conducted using the vehicle you present for the test. You will be asked questions in order to demonstrate to the examiner:
What must be done before the vehicle leaves the depot to make sure that the journey is safe
That your driving complies with all the relevant regulations
That your driving is carried out in an eco-efficient and environmentally-aware way. The Practical Demonstration test is in section five of the official DSA guide to Driver CPC.
Why choose us to deliver your CPC?
Fantastic value for money.
Courses carried out six days per week
We register you with the JAUPT awarding body within 48hrs of attendance and provide you with a certificate of attendance promptly.
Our experienced tutors deliver interesting courses which are relevant to the industry.
For 25 years we have been providing quality training for the road haulage industry and have created an environment that suits you.
We understand the qualification is mandatory but provide enjoyable and interesting courses.
Ample free parking at our centre and refreshments provided during the day (A free truckers bacon bap).
Driver CPC Training Booking and Information
To book your training or for more information about Driver CPC Training please get in touch using the details below or visit our Contact Page.
Contact Form
Please fill out the contact form below and we'll get right back to you.