Our training centre in Exeter is perfectly set up to provide you with a great opportunity to pass your car and trailer (B+E) driving test. With our off-road training area and professional experienced staff we are recognised as a leading provider in the south-west giving our customers the best opportunity to pass the DVSA test first time.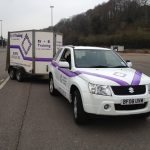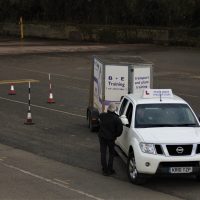 Not only are we situated on the same estate of the DVSA test centre we also offer use of our vast flat tarmac off-road area situated on-site for training, reversing practice, coupling/uncoupling and other aspects of the course. That means you do not waste any time travelling time off test routes driving to off-road areas. During your course you are welcome to come in early (free of charge) to practise if you wish because our excellent first time pass rate is paramount to us.
Booking and Information
To book your training or for more information please get in touch using the details below.
What we offer
At Trans Plant Mastertrain our main focus is always the customer, therefore we invite all candidates to our unique training centre for a free assessment drive utilising our off-road reversing area so we can tailor all courses to each individual's needs. We are confident that our charge for the course is extremely competitive and because of that are prepared to match any 'like for like' quotation.
Free assessment drive
Bespoke courses to suit your needs
Great value for money
Excellent first time pass rate
Unique training centre with off-road facilities onsite
Free parking
Waiting room, rest room, lockers for your personal belongings,restaurant on-site
Excellent customer service
Experienced, qualified instructors
Revision booklet
Unbiased, informative advice and guidance
Local independent training company understanding your needs with over 25 years experience.
To book a car and trailer training course, a free assessment drive or for further information please call us on 01392  42 62 42 or email info@transplantltd.co.uk
Do I need car and trailer training?
Category B (Car) allows you to drive a vehicle with up to 8 passenger seats or a goods vehicle up to 3.5 tonnes.
Category B (Car) entitles you to tow a trailer providing the combined weight of the car & trailer does not exceed 3500kgs or if the towing vehicle has a Maximum Authorised Mass (MAM)of 3500kgs the trailer must not exceed 750kgs.
Question – Our caravan/trailer weighs more than 750kgs. Can I still tow?  Yes, but this is where you need to find the maximum towing capacity of your vehicle and its Unladen Weight (ULW). The rules say that a trailer more than 750kgs can be towed providing the trailer's maximum weight does not exceed the ULW of the towing vehicle and that the total combined vehicle and trailer does not exceed 3.5 tonnes.
If your combination goes over 3.5 tonnes the driver will need Category B+E. With B+E endorsed on your licence, your vehicle and trailer can be over 3.5 tonnes.
Car & Trailer Training Booking and Information
To book your training or for more information about Car & Trailer Training please get in touch using the details below or visit our Contact Page.
Contact Form
Please fill out the contact form below and we'll get right back to you.