LGV / HGV Training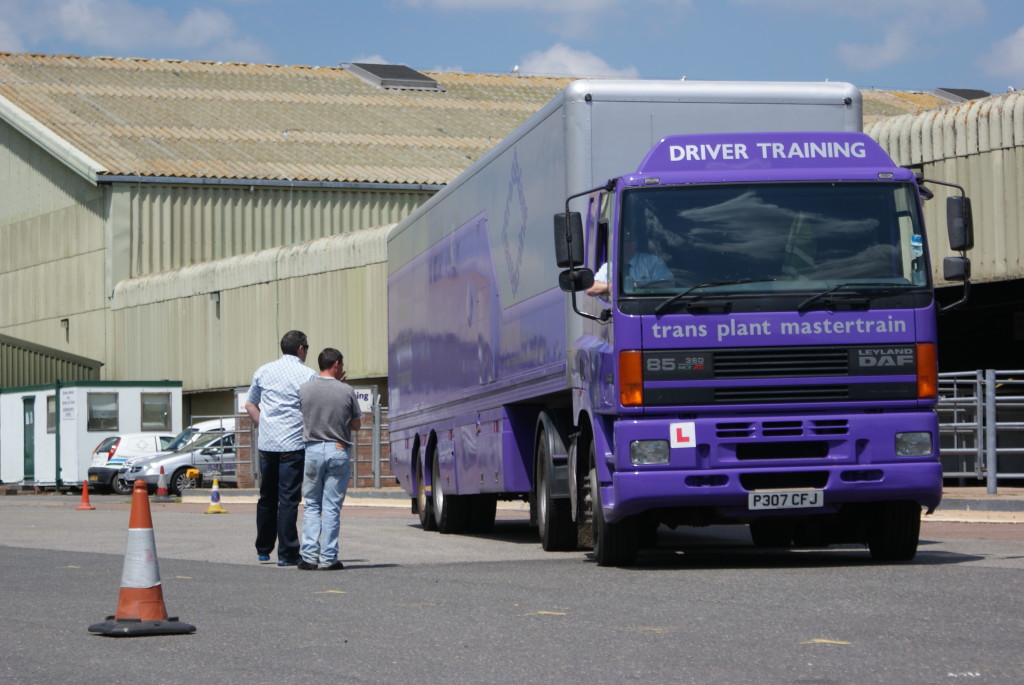 If you are looking for first class LGV / HGV training (lorry driver training), excellent customer service, an outstanding first time pass rate and fantastic value for money then trans plant mastertrain is perfect for you. Established for over twenty five years in Exeter we provide a service and training centre second to none. We are the only lorry driver training company who offer an off road training area on-site saving you wasted training travel time off test routes. Furthermore our lorry driver training centre is just a few blocks away from the DVSA testing centre. Nobody  can match our training resources, support and commitment in providing  quality training and a unique experience.
From your initial LGV / HGV training enquiry we give you all the information, advice and guidance needed, supporting you through the whole process including booking your theory and practical tests, right up to taking you to the Test Centre. We are now pleased to offer the Module 4 test at our centre.
Free LGV  / HGV Assessment Drive
Let us prove our first class unique LGV / HGV training service to you. Contact us on 01392  42 62 42 or visit our fantastic facilities at Marsh Barton Industrial Estate in Exeter. We also offer a FREE, no obligation assessment drive.
After being warmly greated by our admin team you will be introduced to one of our experienced dedicated trainers who will get you in the cab, explain the controls, ensure your safety by you driving the lorry off-road on our flat tarmac training area followed by an on the road drive. This gives you the opportunity to experience a real taste of driving an 18 ton lorry and sample the superb facilities we have to offer and receive an introduction to the service we provide.
The FREE drive will allow you not only to experience our hospitality and facilities, it also enables you to understand exactly what the training and tests involve.
Training Customer Feedback
'I found the lorry driver training absolutely brilliant. They have great facilities at the centre. The tutor was very friendly and patient. The whole experience was great. A truly professional outfit. Many thanks to all at transplant.'
Sebastian Lee from Exeter
'I can't say this about any other LGV training around Exeter.  They are the best in Devon by far.  Big thanks to all the staff at Transplant.  You're the best!'
Matthew Martin from Honiton
'A big thank you to Keith and all at Transplant Mastertrain.  Everybody was very helpful and Keith's tuition was superb.  Managed to recall lots of hints and tips on the day of the test and passed first time. Thanks again.'
Tony Rabicano
'Had a great time yet again.  Keith was absolutely brilliant.  Trans Plant is a great company.  Thank you and best wishes for continued success.'
Chris Heap
"Fab instructor and a stunning experince.  Thanks one and all."
Lizzie from Helston, Cornwall
Why choose us for LGV / HGV, lorry driver training?
Because we offer :-
Great value for money
Excellent 1st time pass rate
The only training company in the south-west which has a flat tarmaced off-road training facility on-site so you can practise your reversing etc. in your time at no extra cost
Experienced,qualified professional trainers
Dedicated team of administrators to book all your training and tests
Systematic and progressive training throughout the course
Full support for the theoretical and practical parts of the course
Two-to-one trainee / instructor ratio from 8.45am to 4.45pm or half day courses on a one-to-one trainer/candidate ratio
Restaurant and rest room at our training centre
Quality Standard ISO 9002 award achieved and maintained
We are not a large national company using sub contractors
We are the leading training company in the south-west established for over 20 years because we care.
LGV / HGV Training Advice
Give us a call or if you can, pop down to our training centre to see what we have to offer.
Artic (Class C+E) Training
Once you have passed your rigid (Class C) test you can progress to your Artic licence. Our vast off-road area is perfect for practising reversing, coupling and uncoupling the trailer and practising basic manoeuvres.
Get in touch & booking
LGV / HGV Training
Telephone: 01392 42 62 42
Email: info@transplanttraining.co.uk
Our office is open Monday to Friday 8.00am – 5.00pm. You can also read more about how to book your lorry driver training.